production

Specification

Burst Strength(Mpa)

Min thickness of Aluminum

Packing (m/cn)

Carton Size (mm)

M3

Packing Size(mm)(Nuded Cargo)

M3

MDPE-AL-PPR For Hot Water

16R

≥6.0

0.18

4m*63Pcs=252

155*155*4000

0.096

16*16*4*63

0.065

20R

≥5.0

0.23

4m*28Pcs=112

125*125*4000

0.062

20*20*4*28

0.045

25R

≥4.0

0.28

4m*28Pcs=112

155*155*4000

0.096

25*25*4*28

0.070

32R

≥4.0

0.33

4m*16Pcs=64

155*155*4000

0.096

32*32*4*16

0.066

40R

≥4.0

0.38

4m*9Pcs=36

130*130*4000

0.067

40*40*4*9

0.058

50R

≥3.8

0.47

4m*9Pcs=36

155*155*4000

0.096

50*50*4*9

0.090

63R

≥3.8

0.57

4m*4Pcs=16

130*130*4000

0.067

63*63*4*4

0.064

75R

≥3.8

0.67

4m*4Pcs=16

130*130*4000

0.067

75*75*4*4

0.090

HDPE-AL-PPR For Cold Water DPE-AL-PPR For Cold Water PN 1.0 Mpa Tmax= 60℃

16L

≥6.0

0.18

4m*63Pcs=252

155*155*4000

0.096

16*16*4*63

0.065

20L

≥5.0

0.23

4m*28Pcs=112

125*125*4000

0.062

20*20*4*28

0.045

25L

≥4.0

0.28

4m*28Pcs=112

155*155*4000

0.096

25*25*4*28

0.070

32L

≥4.0

0.33

4m*16Pcs=64

155*155*4000

0.096

32*32*4*16

0.066

40L

≥4.0

0.38

4m*9Pcs=36

130*130*4000

0.067

40*40*4*9

0.058

50L

≥3.8

0.47

4m*9Pcs=36

155*155*4000

0.096

50*50*4*9

0.090

63L

≥3.8

0.57

4m*4Pcs=16

130*130*4000

0.067

63*63*4*4

0.064

75L

≥3.8

0.67

4m*4Pcs=16

130*130*4000

0.067

75*75*4*4

0.090
Product introduction of PE/PPR—AL--PPR pipe
Properties of PAPR plastic composite pipe
PAPR Aluminum plastic composite pipe mainly have the following features:
1. Applied for potable water pipeline systems which are hygienic and non-toxic. The aluminum middle layer has a very low linear heal expansion coefficient. The pipe is not only as rigid as metal pipes but is also flexible and pressure-resistant.
2.Corrosion resistance properties prevents encrustation build-up in the pipes thus enabling the free flow of water and eliminating rust that causes stains In tubs and basins.
3.This pipe has high temperature and high pressure resistance and can work under continuous normal working pressure within water temperatures up to
4.Heat preservation and energy saving properties greatly minimizes heat losses
during hot water flow. The neat conduction coefficient is 1/200 of metal pipes.
class="f8"5.The pipes are lightweight and the specific gravity is 1/7 of metal pipes.
The surface of the inner and outer layer of the pipe Is smooth therefore reduces low resistance.
6.The pipes can be buried underground and are easily found with metal detectors.
7.The hot melt connection machine is used to connect the pipes and fittings.which makes the installation convenient and reliable. The installation can be finished within a few seconds.
8.The pipes have a long lifespan of up to 50 years or more under normal conditions, convenient and reliable. The installation can be finished within a few seconds.
9) Have an effect of electromagnetic shielding;
10) Can be directly buried under ground, and metal detector can be used to detect position of the pipe;
11) Oxygen would be absolutely isolated due to utilization of aluminum core, thus bacterial reproduction is prevented.
2.Major technical indicators of aluminum plastic composite pipe
Thermal conductivity 0.45W/(mk)
Coefficient of thermal expansion 0.025 mm/(mk)
Medium temperature -40~95℃
Gas (oxygen) permeability 0
Inner wall of pipe smooth, small fluid resistance, and roughness is 0.0004mm
Others good performance of antistatic, long service life
II.Application range of aluminum plastic composite pipe
1.Industrial and residential area pipeline systems for hot
and cold water.
2.Pipeline systems for conveying portable water.
3.Heating pipelines for under floor heating. water and roof
heating, snow melting In parking lots and airport runways.
4.Pipelines for oil and cooling fluid transportation
5.Pipelines for the chemical liquids In beverage factories
6.Pipelines for fluid transportation in beverage factories
7.Pipelines for air conditioners
8.Pipelines for oxygen transportation in hospital
III.Production technique of PAPR pipe
1. Production equipment
The German UNICOR aluminum plastic composite pipe production line, which is the most advanced production line at present internationally, has been completely introduced by our company. Many advanced techniques have been adopted, such as extrusion together with the five layers, ultrasonic lap welding, etc. Compared with other production lines of aluminum plastic composite pipe, it mainly boasts the following five major advantages:
1)Ultrasonic welding: ultrasonic welding technique has been used at the joint of aluminum band, which leads to a large welding area of aluminum band and high welding strength;
2)Extrusion together with the five layers: compared with other coating process, the hot-melting adhesive has a excellent fluid performance, thus a high adhesive strength betweenaluminum layer and plastic is obtained;
3) On-line inspection with pressure forced inside the pipe: A pressure ranged
between 0.6~0.8 MPa is forced on line, Adhesive strength is increased as the aluminum layer and plastic tightly adhere with each other. The pipe would crack on spot in case of existence of defect on welding. Therefore,up-to-standard rate out of factory may reach 100%;
4)Synchronizing controller: computer control is used along the complete production line, thus uniform and reliable product quality is able to be realized;
5)Optical inspection instrument: inspect outer wall mass and outer diameter of the pipe on-line, increasing product precision.
2.Raw material
Aluminum plastic composite pipe mainly include five kinds of major raw material, namely plastic ( hot water material, cold water material), hot melt adhesive, colour batch, processing aid agent, and aluminum band. Raw material of Ginde company are all imported from famous manufacture in North AmericaEurope. Major suppliers include The Dow Chemical Company in America, Philips in America, Polyplast in Germany, DSM in Holland. Etc. Major raw material, such as polyethylene DOWLEX2344 is tested by Karlsruhe water quality test station, which would prove that pipe made of such material is suitable to be used for drinking water; data list on material safety provided by DSM Company shows that hot melt adhesive Ypares produced by the company has neither toxicity nor hypersensitivity after long term utilization. In addition,Ginde aluminum plastic composite pipe does not have heavy metals such as mercury, lead, durin production. It is clean and friendly to environment.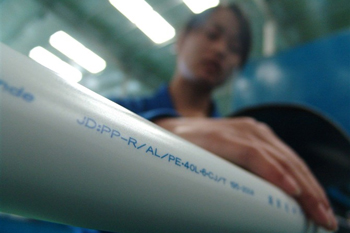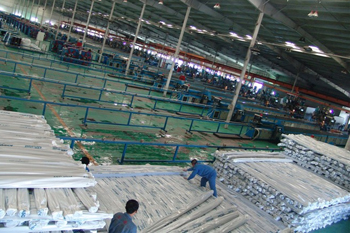 Supplier Details
No.2 Fengwei Road,Wuxi,Jiangsu Province,China

8618901202028

86-510-82026233

86-510-82023329