PPR nanometer resists bacteria pipe
Product introduction of PPR nanometer anti-bacteria pipe
Our company nanometer resist bacteria PP-R tubing develops successfully, not only solved the people to live thoroughly the tap water two pollution, and could kill in effectively the water source the harmful bacterium, improved the people tap water quality greatly. It will develop inevitably can give the construction water supply pipeline profession successfully to bring a new revolution. Its application value and the commercial value are other tubing incomparable.
The simple workmanship, easy to produce, not to need special equipment, except the concurrently ordinary polypropylene service pipe material corrosion resistance strong strength, easy to melt connection, moderate price, hard body merits, but also can eliminate the bacterium fungus, mildew in water pipe, also can effectively restrain colon bacillus, golden color staphylococcus. The resist bacteria effect is lasting, it can satisfy in the people daily life to the water supply pipeline resisting-bacteria request, has the very profound social efficiency and the economic efficiency.
In the building, the cold and hot water use the galvanization steel pipe line system more than hundred years historically, the majority water quality monitor data indicated that the main reason which caused the pipe water "reddish" and "blackish" serious in the building is the steel pipe inner corrosion. In order to improve the water quality and guarantee the water quality, since 1st of June 2000the Ministry of Construction stipulated that it is forbidden to use galvanization steel pipe in the construction water supply work. It may be replaced by plastic tube, multi-layer pipe and so on. Polypropylene pipe and fittings, because of the strong corrosion resistance ability, easy to connect, moderately-priced, hard body and so on the merits, is one of most commonly used tubing. But at present polypropylene tubing sells in market can achieve hygienic and the health request, but cannot eliminate the bacterium in the water. Therefore new polypropylene pipe, which not only conform to the hygienic and health requirement but also eliminate the bacterium in the pipe system, is eagerly expected.
Structure and characteristic of PP-R nanometer resists bacteria pipe
PP-R nanometer resist bacteria tubing is constructed by polypropylene for the main body and nanometer resist bacteria inner layer. Using two layer co-extrude technology, the outer layer is the normal, the inner layer is used the polypropylene added nanometer resist bacteria batch.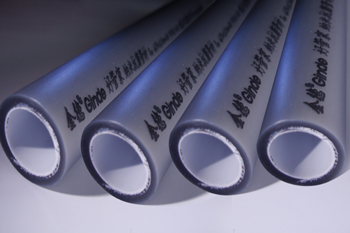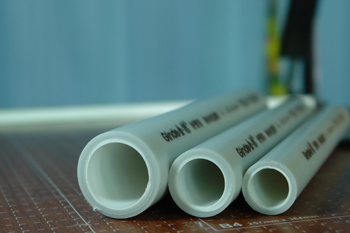 production

Specification

Packing(m/cn)

Packing Size(mm) (Nuded Cargo)

Carton Size (mm)

M3

Weight (kg)




16mm x 2.7

4m*63Pcs=252

16*16*4*63Pcs

155*155*4000

0.065

30.240

20mm x 3.4

4m*28Pcs=112

20*20*4*28Pcs

125*125*4000

0.045

20.160

25mm x 4.2

4m*28Pcs=112

25*25*4*28Pcs

155*155*4000

0.070

30.240

32mm x 5.4

4m*16Pcs=64

32*32*4*16Pcs

155*155*4000

0.066

30.240

40mm x 6.7

4m*9Pcs=36

40*40*4*9Pcs

130*130*4000

0.058

25.200

50mm x 8.3

4m*9Pcs=36

50*50*4*9Pcs

155*155*4000

0.090

37.800

63mm x 10.5

4m*4Pcs=16

63*63*4*4Pcs

130*130*4000

0.064

25.920

75mm x 12.5

4m*4Pcs=16

75*75*4*4Pcs

130*130*4000

0.090

37.440

90mm x 15.0

4m*1Pcs=4

90*90*4*1Pcs

100*100*4000

0.032

13.520

110m x 18.3

4m*1Pcs=4

110*110*4*1Pcs

120*120*4000

0.048

20.200

125mm x 20.8

4m*1Pcs=4

125*125*4*1Pcs

135*135*4000

0.063

26.040

160mm x 26.6

4m*1Pcs=4

160*160*4*1Pcs

170*170*4000

0.102

42.640
Supplier Details
No.2 Fengwei Road,Wuxi,Jiangsu Province,China

8618901202028

86-510-82026233

86-510-82023329